Time to apply for a Deer Hunt in Utah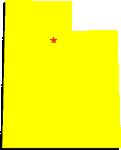 As deer hunting in the Beehive State continues to decline, you may or may not be interested in hunting there, but if you wish to do so, now is the time to apply. This year Utah plans to restrict your hunting area to a small unit of space. Next year you may need to check in and check out at the gate in order to hunt. Heaven forbid anyone suggests it.
Go to the "States" tab and you will be on your way.
Happy hunting