Oregon Mule Deer Initiative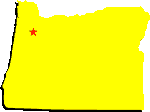 Fast facts about Oregon's mule deer

The estimated 2009 Oregon mule deer population of 216,154 is below the statewide management objective of 344,900 animals.
Mule deer (found east of the Cascades) and black-tailed deer (west of the Cascades) are the same species but different sub-species of deer.
Deer have a smaller digestive track than elk or cattle, so their forage needs to be of higher nutritional quality.
Mule deer breed once per year, in late fall, and does generally produce two fawns.
In 2008, about 70,000 people went deer hunting in eastern Oregon, generating almost $22 million for the economy.

Ranches, farms and other private lands provide winter range and other important habitat for mule deer.