When are Mule Deer Fawns born ?
Since the gestation period for mule deer is about 210 days, if you know when the rut occurs, then you will know when to expect baby deer.  Or, in like manner, if you know when the fawns are born, then you know when the rut occurs.  In my home area of North Central Arizona, the firs
t fawns are born about the end of July.  This may be a surprise to some.  It was a surprise to me.  The peak birthing period here is mid August.  That is when the typical Arizona monsoon hits.  This timing is about 2 months later than, say Western Colorado.  If I work backwards, that means our local rut is around mid to late January. 
It just so happens that, here in Arizona, I can buy an over-the-counter archery tag that lets me hunt during the rut in certain areas.
Since I am a Mule Deer Fanatic, and a serious student of the Mule Deer, I watch the mule deer near me with keen interest.  I know that the fawns that are being born are disappearing just about as fast as they hit the ground.  I know that the does separate themselves from the other animals just before fawning.  I know that they typically give birth in the middle of a park, which is what I would expect of an antelope.  I presume this is a predator evasion strategy.  It doesn't seem to be working too well, however.  There are so many coyotes in our area that the deer, and the small game, for that matter, don't have much of a chance to survive. I see these deer every day – so I can tell when a doe is pregnant, and I can tell when she has delivered.  If I see fawns with their mother, and then they disappear, I deduce a predator problem.  We do not have a habitat problem per se, and we do not have winter kill. 
Last year, we ended up with about 0.5/1.0 fawns per doe.  That's pretty sad.  It looks like it is going to be even worse this year.  Have you ever wondered what this ratio should be?  If you were a deer rancher,  you would want to net at least 1.5/1.0 fawns per doe.  Is that possible, you ask.  Why, yes it is.  If our agencies were even half good game managers, that is what we could expect from them.  This type of ratio is essential to a growing herd and to having surplus deer.  That is why we have hunting – because of the capacity of deer herds to produce a surplus.  Today, we are giving the lion's share of that surplus capacity to predators.
It is "normal" for a "heifer" doe to have a single fawn for her first birthing experience at age 2 1/2.  After that, until she goes through menopause, she will typically have twins, occasionally triplets.  Let's say that a doe will have seven birthing experiences in her lifetime, then we could expect her to deliver 11-13 fawns.  I should interject here – this is why we don't kill does.  About 55% of the fawns will be buck fawns, so we could expect something like seven buck fawns and six doe fawns from a single, healthy doe.  By the time a doe expires, let's say, at age ten, between her and her offspring, there would be approximately 340 fawns delivered, of which about 190 would be bucks.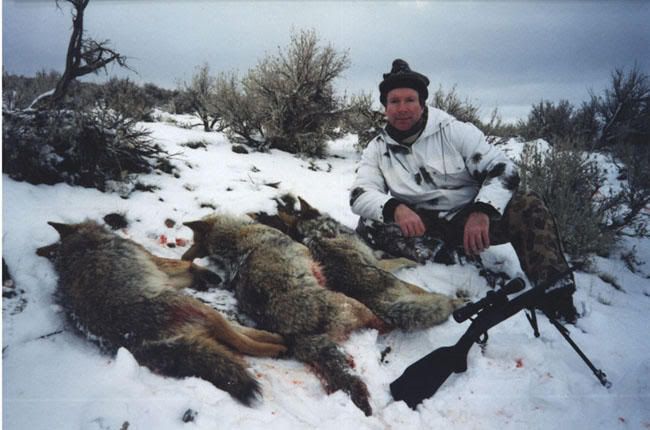 Thinking about these prospects should make any Mule Deer Fanatic happy.  Then you think about the current state of mule deer mis-management and you get sad. 
So, keep an eye on your own deer herd and see what you can learn.  If you see low fawn/doe ratios, you can start killing coyotes.