It is a shame to make good coyotes out of all those bad coyotes. Culls don't work well in such small numbers. Thousands need to be killed.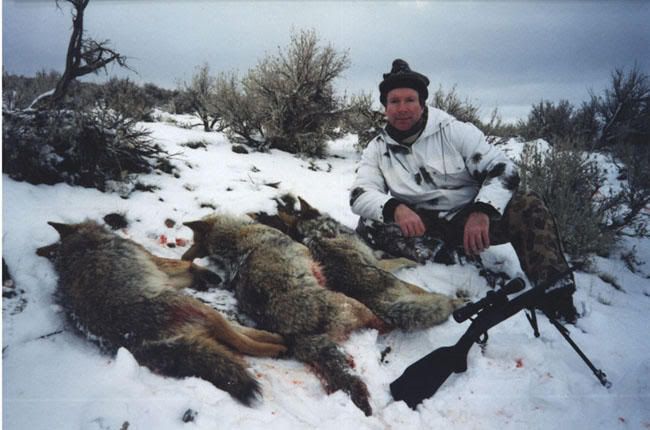 The president of the Ottawa-Carleton Wildlife Centre says the so-called Great Coyote Cull Contest underway in Osgoode "casts shame on the entire city."
Donna Dubreuil says she has received a slew of e-mails and phone calls since the contest began last month.
"In the past four or five days, I've had non-stop e-mails and phone calls," said Dubreuil, who asked, "Has Ottawa become the town that time forgot?"

Chronic problem
What she's referring to is a more aggressive approach to a chronic problem in the city's rural areas: Coyotes killing farm animals, pets and even threatening people — as was the case last year when a teenager was attacked near Osgoode.
But there's controversy.
The Osgoode Township Fish, Game and Conservation Club-sponsored contest will — for a $2 entry fee — reward those who bring in a dead coyote with a ballot in a gun raffle. Dubreuil calls this approach embarrassing.
"It's a wild west show," she said. "An 18th century response."
Dubreuil also said coyote culls don't work in the long run.
She points to recent history. Two years ago, Osgoode Coun. Doug Thompson used public funds to pay trappers to eliminate coyotes over a three-month period. They reportedly caught 22 of them. But Thompson himself said, based on the number of sightings he's heard about recently, the problem persists.
He said he's received "more than 100" reports of people who have lost pets and livestock, or saw coyotes on municipal streets in the past year.
"I've been working with the (Ontario Ministry of Natural Resources) and the city bylaw department to resolve this issue," said Thompson, who will meet with both again later this month.
Bruce Roney, executive director of the Ottawa Humane Society, agrees with Dubreuil that a cull isn't the answer.

"You can do a cull, but they soon come back, and sometimes in greater numbers," said Roney, though he claims there is no official ministry data on the number of coyotes in the city.
He also thinks the name of the contest is offensive.
'Effective'
"If there's a cull needed, I'd support it. But I think the name may draw people in who aren't as responsible," he said.
Dave Craig, director of the Osgoode Township Fish, Game and Conservation Club, thinks it might have been better to call it simply "The Coyote Cull", but defends its effectiveness.
"There are those people, I suppose, but culls are effective because they bring the numbers down," said Craig.
"They're a real problem. They kill sheep, calves, deer — even cats and dogs."
He also said the cull is a potential tax-saver.
Each time a coyote kills a livestock animal, the provincial government cuts a $200 compensation cheque.
"They pay out for every kill," he said.
Barrhaven Coun. Jan Harder said coyotes are frightening for people whose kids walk to school, but added, "I can't see us taking guns and shooting them in Barrhaven."
"That's overkill, no pun intended."
Harder said coyotes are the province's problem, not the city's.
"The ministry needs to get off its butt, step up and come up with a solution," Harder said.
When contacted, representatives from the ministry declined comment.