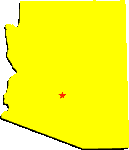 If you want to take your chances at drawing an Arizona Mule Deer Tag, don't wait too much longer. The deadline is June 8, 2010. You may purchase a license first or apply for one as part of the drawing. You cannot apply online for the draw.
Click ARIZONA APPLICATION for the application.
Or select the States Tab for more information.
Good Luck