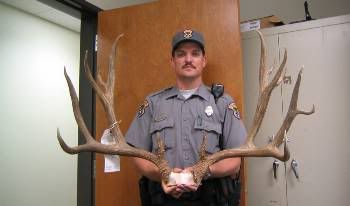 Idaho Fish and Game claims another trophy Mule Deer.
—————————————
A Wisconsin man, aided by a friend from Jerome, Idaho and hunting on a highly visible Idaho Super Tag,  shot this buck with a rifle in a unit that was open for muzzleloader hunting. When questioned, the men claimed to have shot at the deer, with a muzzleloading rifle, in the correct unit, only to have it run across the road where it was finished off with a rifle. The kill was reported by another man who had hopes of killing the buck himself and who had been keeping track of the monster for some time previous to the hunt. This story does go to show that there was at least one good buck still left in Idaho at the time.
Lesson: Don't finish off your archery or muzzleloader buck with a rifle.