Mule Deer Hunting in Idaho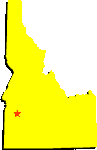 Before I started hunting mule deer in Idaho it must have been fabulous. I will tell you how good it was in the early 80's when I started. If I saw another hunter in the same canyon in which I was hunting, it was rare. And then, they or I would usually leave because it was too crowded. The hunting season ran from early August to mid January depending on where you hunted. Tags were over-the-counter. In some areas, you could kill 2 bucks. Non-resident tags were priced reasonably. Resident tags were a steal. You could hunt where you wanted.  Wardens were seldom seen. Big bucks were common. Seasons were long and you could hunt with multiple weapons in multiple areas. Hunting during the rut was common practice, and deer were two to three times more plentiful than they are today.
——————–
Now Idaho has done a mock-survey to see what is wanted
I cannot take credit for discovering this survey on my own. It was brought to my attention by Don of Buckhuntersblog. Here is the link to an Idaho Mule Deer hunter survey –> IDAHO DEER HUNTER SURVEY.