Nevada Hunt Application Deadline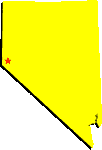 April 21, 2008 is the deadline to apply for limited quota mule deer tags
in Nevada. Drawing results will be available June 20, online.
A sign of things to come, the Nevada Department of Wildlife is not mailing out
Proclamations and Applications beginning this year. If you applied for a mule deer hunt last year, you should have already recieved a postcard informing you of the need to go online.
For several years now, it has been required that you purchase a license in order to obtain a preference point. A non-resident can hunt coyotes and jacks in Nevada without a license, so if you don't draw a tag, having one is of little value other than for a preference point.
Beware. When I applied online last year, I was given the option to have my license
money refunded if I didn't draw a tag, which option I selected. Somehow, I still ended up with a license ( a 2008 license, at that ), and my credit card was hit for the amount of the license – which was not my intent.
Application fees:
There is a $10.00 non-refundable application fee for all big game hunts,except Rocky Mountain elk, which is $15.00.
A non-refundable $3 predator management fee is assessed on each tagapplication.
There is a $2.00 non-refundable application fee for resident applicationssubmitted online, and a $3.50 non-refundable application fee for non-resident
applications submitted online.
Hunters who do not draw tags will receive full refunds, excluding the non-refundable application fees.