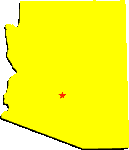 It has been rumored that Arizona will cease selling over-the-counter mule deer archery tags and, instead, issue tags via drawing. For me, this is bad news – one more loss that will probably never return. The general trend here is to take from hunters and give to the predators. The solution to the mule deer problem is never viewed by wildlife (mis)managers as a need for more deer, but instead, less hunting and/or less harvest.
Some hunters will even welcome this change because they are caught up in the scarcity mentality. They will say to themselves – Self, I would rather hunt every 10 years, and have only a hand-full of hunters to contend with than hunt every year with a whole bunch of hunters and no deer. They will mistakenly believe that going to a draw will mean more big bucks. Sadly, this will not be the case – as history has proven.
As mule deer become increasingly more scarce due to predators, it will become more prevalent for the relatively few remaining hunters to crowd in upon the small pockets of deer that will only exist in core areas. And, so the crowding will not be alleviated nor will there be more large bucks. There will be a few places that still have deer while large areas, void of deer, will not be hunted.
The North Kaibab is a perfect example of this phenomenon. This year, I managed to squeeze in a few days at the end of the North Kaibab archery hunt. From the looks of the roads, it was evident there had been a lot of prior traffic. I didn't find any bucks other than a two point until the last day of the hunt, when, I finally found a pair of large bucks. Unfortunately, I spooked them into some other hunters who promptly shot one of them about 10 yards off the road.
I spoke to some California hunters my first day there. All of them had hunted the Kaibab for quite a few years. They had witnessed the crowd that was present on the opener and surmised that there were about 10,000 bowhunters. They commented that the large number of hunters was due to the liklihood that tags would be issued by drawing next year. This was my first exposure to the fact that the archery draw might be more than just a rumor. I do not know if there were really 10,000 bowhunters, but it is possible.
All of these people are crowding into an area where there are a few deer left and where they can get a tag while the rest of Arizona has few muleys and sparse bowhunters. The North Kaibab could support 10 times the mule deer that are currently available there. I, and everyone I spoke to, saw and heard plenty of coyotes. I know there are many lions there by the number of tracks I have seen.
Unless the AGnF is bombarded with unhappy hunters voicing opposition to this change, you may anticipate it becoming a reality. As long as this downward trend continues, the next change will also take away from hunters and give to predators rather than the other way around.
Make your wishes known.